The Bunker Trilogy
Jethro Compton & Jamie Wilkes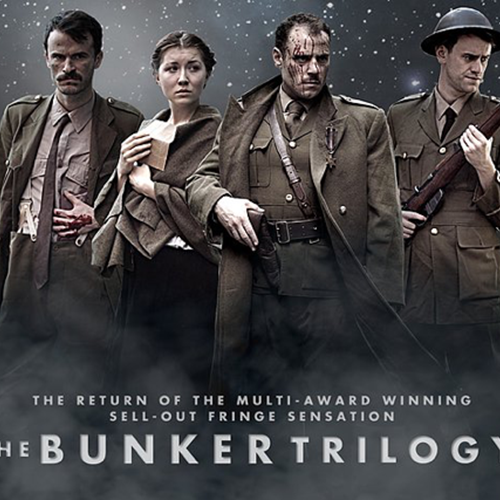 ---
---
MORGANA: inspired by the Arthurian Legend. On the reserve lines in France, three young soldiers in search of distraction and delight find more than they bargained for in the beautiful, mysterious and mystical Morgana Le Fay. The friends pass the time with stories of adventures and battles lost and won; with games of cards and songs of love. A dark and mysterious power haunts the trenches taunting the brave knights with thoughts of home, of their schooldays, of the girls and lives they've left behind - for King and country.
AGAMEMON: an intense reimagining of the Ancient Greek Legend. Journey into the delusions of a shell shocked solider, devastated by war, cut off from help, convinced of a plot to bring him down. Bloodied and wounded the officer dreams of his return to England; to his home, to his wife. As the darkness descends and the enemy mounts its final attack, only one thought haunts Agamemnon, 'What is there to live for?'
MACBETH: trapped on the front lines, his bloody actions behind him, the weird sisters propel the soldier through his deepest memories as the bloody truth of his actions fall full force on Shakespeare's greatest killer. Across no man's land the enemy is stirring; above the trenches mortar falls from the sky; in the Bunker Macbeth's greatest threat comes from the men who stand beside him.