Spring Newsletter 2021
31.03.2021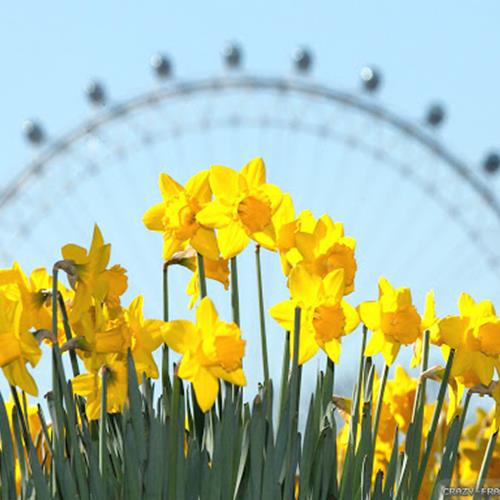 Spring is finally upon us and to welcome in the new season, we wanted to highlight some of our clients' fantastic work from the past few months along with the new books we're representing. 
BLACK POWER: A BRITISH STORY OF RESISTANCE – Josh Rogan
Executive Produced by James Rogan, BLACK POWER: A BRITISH STORY OF RESISTANCE aired on Thursday 25th March at 9pm on BBC Two. Produced by Rogan Productions. ★★★★★ - Financial Times
THE PEMBROKESHIRE MURDERS – Marc Evans
Directed by Marc Evans, THE PEMBROKESHIRE MURDERS aired on ITV in January. The launch episode of the drama series was watched by 11.2 million viewers in its first week broadcast - making it the biggest new ITV drama launch since 2006. The original book written by Steve Wilkins and Jonathan Hill went straight into The Sunday Times bestseller list at Number 8 and the Amazon bestseller list at Number 5 following the success of the ITV adaptation. Produced by ITV Studios' World Productions.
CRITICS' CIRCLE FILM AWARD NOMINATION– Fyzal Boulifa Trewartha
Writer and Director, Fyzal Boulifa, was nominated for The Philip French Award for a Breakthrough British/Irish Filmmaker at the 41st London Critics' Circle Film Awards 2021 for his directorial work on his debut feature, LYNN + LUCY. Produced by Camilla Bray (Rosetta Productions) and supported in development and production by BBC Films and the BFI, LYNN + LUCY, is available to watch on BFI Player.
MARCELLA SERIES 3 – Mike Walden
Mike Walden wrote Episode 5 of the highly anticipated, third series of MARCELLA, which returned to ITV in January. Produced by Buccaneer Media.
THE SPARKS BROTHERS – Paul Trewartha
Edited by Paul Trewartha, THE SPARKS BROTHERS documentary went down a storm at the 2021 Sundance Film Festival and has been selected for SXSW. The film has also been acquired by Focus Features and is set for theatrical release on the 18th of June in the US and Canada. Produced by Nira Park, Edgar Wright, George Hencken and Laura Richardson.
SUCH SMALL HANDS – Maria Martinez Bayona
Maria Martinez Bayona's short film, SUCH SMALL HANDS, screened at the London Short Film Festival in January. Produced by Wellington Films.
RUNNING NAKED PREMIERED ONLINE – Victor Buhler
Directed by Victor Buhler, RUNNING NAKED premiered online in February. Produced by Michael Knowles and Exec Produced by Martin Desmond Roe and Chris Uetwiller.
AFTER LOVE RELEASE DATE – Aleem Khan  
Written and directed by Aleem Khan, AFTER LOVE is set to be released in UK cinemas on the 4th of June. Starring Joanna Scanlan. Produced by The Bureau.
SHOOTING BEGAN ON DALGLIESH – P.D. James  
Based on P.D. James' international best-selling and much-loved Inspector Dalgliesh Mysteries; DALGLIESH began principal photography in March. Produced by New Pictures for Acorn TV and Channel 5.
SHOOTING BEGAN ON MY NAME IS LEON – Kit de Waal  
Written by Kit de Waal, MY NAME IS LEON is to be adapted into a film for BBC One and principal photography started in March. The book has been adapted by Shola Amoo, writing his first screenplay for television. It is to be directed by Lynette Linton and produced by Douglas Road Productions, headed by Sir Lenny Henry.
SHOOTING BEGAN ON ENYS MEN – Mark Jenkin
Written and directed by Mark Jenkin, ENYS MEN has commenced filming in Cornwall. This is Mark's follow-up to BAIT for which Mark won the BAFTA for Outstanding Debut in 2020. Produced by BOSENA and co-financed by Film4.
SHOOTING SET TO BEGIN ON SUPERHOE – Dawn Shadforth
Directed by Dawn Shadforth, SUPERHOE, based on Nicôle Lecky's one-woman Royal Court show of the same name, begins shooting next week. Produced by Bonafide for BBC Three.
THE ABSENCE OF NORMAL – Graham Duff  
Written by Graham Duff and Alexei Sayle, the comedy drama series, THE ABSENCE OF NORMAL aired on BBC Radio 4 in March. Adapted from Sayle's best-selling book of short stories, the collection was described as "A complete revelation" upon publication. Now these funny, cynical, yet often tender stories are brought to life by a stellar cast, including Graham, himself, and introduced by Alexei.
IMAGINE THAT – Kit de Waal  
IMAGINE THAT by Kit de Waal, performed by Flo Wilson, was available to watch as part of a week-long celebration of International Women's Day 2021. Curated by Maxine Peake and directed by Annabel Bolton, the collection of monologues titled One Hand Tied Behind Us, were originally staged in 2018 to mark 100 years since the Representation of the People Act gave the first women in Britain the right to vote. One Hand Tied Behind Us explored key moments in the history of women's rights in the UK through five newly commissioned monologues. The Old Vic spotlighted the brilliant series as part of Your Old Vic, a digital artistic programme of free-to-access content.
WATCH PINK MIST AT HOME – Owen Sheers and George Mann  
Written by Owen Sheers and directed by George Mann, the archive recording of the original 2015 production of PINK MIST became available to stream from 22nd March, for a limited four-week release as part of Bristol Old Vic At Home.
TO PROVIDE ALL PEOPLE – Owen Sheers  
Written by Owen Sheers, TO PROVIDE ALL PEOPLE was repeated on 18th March at 9pm on BBC Two Wales. Produced by Vox Pictures.
DOMINA – Alice Northey  
Congratulations to our Script Editor, Alice Northey, who worked on DOMINA. DOMINA will air in May 2021 on Sky Atlantic and streaming service NOW. Produced by Sky Studios and Fifty Fathoms.
BOOKS
THE ACCIDENTAL INFLUENCER By Bella Younger 
When Bella Younger spawned Deliciously Stella – her hilarious and daring social media alter ego – she wanted to prove once and for all that Instagram does not equal reality. Within weeks, she'd gone viral and begun her very own #influencerlife. 
In 2016, Bella gained 75,000 followers overnight, and hundreds of likes a minute. Soon she was being paid thousands of pounds to beat up a cake for the 'gram. Along with newfound status as a witty caption-writing and emoji-bombing queen, was figuring out how exactly the Instafamous made 'work friends' while attending ludicrously lavish influencer gifting suites. 
With notifications constantly pinging in real time, Bella's health deteriorated as her carefree online presence flourished, culminating in a bipolar diagnosis and stints at The Priory for social media addiction. Should she have undertaken a month-long run of stand-up comedy immediately after she was discharged? Probably not, but the pressure to be 'on it' and online was all-consuming. 
Funny, frank and fearless, The Accidental Influencer is the relatable story behind the staged shots, spon-con, and the coveted but elusive blue tick. 
DAUGHTERS OF NIGHT By Laura Shepherd-Robinson 
From the brothels and gin-shops of Covent Garden to the elegant townhouses of Mayfair, Laura Shepherd-Robinson's Daughters of Night follows Caroline Corsham, as she seeks justice for a murdered woman whom London society would rather forget . . . 
Lucia's fingers found her own. She gazed at Caro as if from a distance. Her lips parted, her words a whisper: 'He knows.' 
London, 1782. Desperate for her politician husband to return home from France, Caroline 'Caro' Corsham is already in a state of anxiety when she finds a well-dressed woman mortally wounded in the bowers of the Vauxhall Pleasure Gardens. The Bow Street constables are swift to act, until they discover that the deceased woman was a highly-paid prostitute, at which point they cease to care entirely. But Caro has motives of her own for wanting to see justice done, and so sets out to solve the crime herself. Enlisting the help of thieftaker, Peregrine Child, their inquiry delves into the hidden corners of Georgian society, a world of artifice, deception and secret lives.  
But with many gentlemen refusing to speak about their dealings with the dead woman, and Caro's own reputation under threat, finding the killer will be harder, and more treacherous than she can know . . .  
DAUGHTERS OF NIGHT is the second novel from Laura Shepherd-Robinson and reached number 5 in The Times hardback chart a week after its release.